In conversation with Sleep Well Milk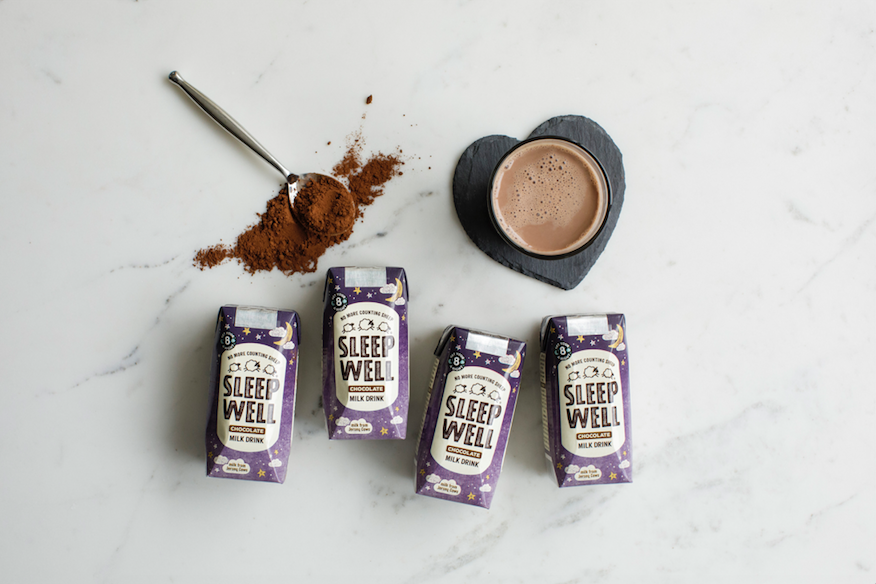 I recently had the good fortune of e-meeting the founder of Sleep Well Milk (a delicious drink that you can sip before bed to help you snooze more easily). Here's what Sam Watts, one half of the founding couple, had to say about her small business life, the delicious milk and their family bedtime routines. 
1. What was the first hurdle that you tackled when starting Sleep Well Milk? 
It was on a flight from LA to London that Sleep Well founders Sam and Allan Watts had their lightbulb moment. Sam, a fearful flyer, had bought a bottle of something that claimed to help you sleep but contained all sorts of synthetic ingredients. It was at that moment, at 30,000 feet above the Atlantic Ocean, that she started to wonder if you could create a drink that was full of goodness, natural, suitable for all the family to enjoy and that could help you relax and sleep.
The idea was the easy part! The first hurdle was to create the product we had dreamed up in our heads to ensure it tasted gorgeous, was as natural as possible and worked! Months of research, kitchen trials and tastings took place before we came up with the fantastic recipes we work to today for both our vanilla and chocolate Sleep Well drinks. 
2. Why did you want to create this product? What was the need you spotted for it? 
We are all so tired! More than half of Britons say stress or worry is keeping them awake at night. We are all craving a great night's sleep but want to avoid taking medication. That's why we created Sleep Well. A great tasting natural alternative to pills and potions that our whole family could enjoy.
3. Who is Sleep Well for?
Sleep Well is for anyone looking for a better night's sleep who wants to avoid taking medication. Our delicious milk is the natural food alternative to taking a pill and is suitable for all ages over 12 months. It's perfect for everyone from families to students, travellers and shift workers to stressed out executives.
4. Do you have any tips or tricks for sleeping other than Sleep Well Milk to get ready for bed?
There isn't a one size fits all solution to better sleeping so it's all about finding a routine that works best for you. Here are a few of our favourite sleep tips:
Set a time for bed – Count back 8 hours from when you want to wake up then start your bedtime routine 45 minutes before that. What you do in this precious time before you head to bed directly influences your quality and quantity of sleep.
Get ready for tomorrow – during your wind-down time, get everything ready for the next day. Your clothes. Your bag. Your breakfast and/or lunch. Do as much as you can to make your morning routine more relaxed.
Switch off tech – switch off all tech at least 30 minutes before bed. The blue light these devices emits can delay your body releasing the sleep hormone melatonin. And you need this to tell your body it's time for bed and for you to start feeling sleepy.
Write a to-do list – Keep a journal next to your bed. If tomorrow's to-dos are keeping your mind racing, get them out of your head by jotting them down. And spend some time writing about what's been good about your day. All these tips help you switch off and drift into a more relaxed sleep. 
5. Which is your favourite flavour? Do you drink it straight or mix with something else? 
We just can't call it because they are both delicious. Love of both our flavours is absolutely split 50/50 – some prefer chocolate, others vanilla and both our shop and online sales reflect this. We obviously have a huge fondness for our original vanilla flavour because it was the first of our growing Sleep Well family.  You drink it as it is and can warm it up or drink it cold half an hour before you want to sleep.
6. What is the biggest thing you have learnt about sleep and sleep hygiene since you started working on Sleep Well Milk? 
The more we read about sleep the more shocked we are at how we all (us included) have taken it for granted.  Sleep is absolutely critical for improved health and wellbeing. New research is constantly published proving the benefits of getting your eight hours a night. Being just that little bit more disciplined about your sleep routine can have a massive positive impact on the quality and quantity of sleep you get. That's why we created our top tips for a Good Sleep Habit – check out the free downloads available from our Snooze Zone here  
7. Any tips for people who would want to go into working in a similar industry? 
The success of Sleep Well is because of a combination of things – a fantastic tasting product that works, a proven customer need and an engaging and powerful brand. These three elements are vital if you are going to launch and grow a successful food brand. The market is saturated so you need to be absolutely clear about what makes your product different, special and shelf-worthy in order to convince retailers to stock it and promote it. And whilst you are on that long journey of convincing retailers of how brilliant you are, make the most of your own channels to launch and sell your product online. It worked brilliantly for us at Sleep Well to help build our brand and nurture an amazing and engaged sleep community.
You can get your hands on some Sleep Well Milk here.  
Written by Nina Clark, Nightire founder